Costly website advertising could stall or derail your online marketing efforts to grow your business. Instead of spending your hard-earned money on website ads, you can attract more website traffic with free Internet leads. Mobile Copywriter can help you generate inbound leads for your business.
When Can I Expect to Receive Inbound Leads With a Local Marketing Strategy?
The time frame for receiving inbound leads will vary among business strategies and competitive niches. For certain industries with limited competition or keywords that are deemed low-hanging fruit, a company may begin to generate inbound marketing leads within a short period of time. However, for highly competitive keyword phrases, such as term life insurance rates, reverse mortgage loans or buy a website, an entrepreneur should waste minimal amounts of time.
Companies that maintain a strong foothold in competitive industries are wise enough to create continuous content to retain their ability to generate inbound leads. The quickest path to success is to hire a copywriter for local marketing support.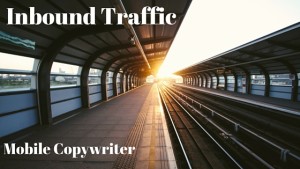 Why are Inbound Leads so Valuable?
Traditional lead generation methods relied on outbound marketing strategies, such as direct mail, television, radio, billboard ads and other types of advertisements. Typically, a business would advertise toward a massive audience to trigger a response. Generally, marketers expected a lead capture rate that ranged between one and two percent.
The Internet has enabled knowledgeable marketers to generate leads much more efficiently. However, many business owners are losing money via Internet advertising. Small businesses that lack copywriters and creative marketing experts are the most vulnerable to losing money online.
Automated marketing processes are extremely valuable business tools. With inbound marketing leads, a company receives inquiries from buyers who are interested in a specific product or service. So, rather than plastering advertisements around town to see who might eventually decide to call, a company can use content marketing strategies to generate inbound leads.
Targeted Website Traffic is a Must for Quality Inbound Leads
Generating inbound leads from a variety of resources is a great idea. However, experienced marketing professionals will use digital strategies to channel specific types of inbound leads. We use blog content, social media, press releases and web page content to attract quality inbound leads.
When relevant keywords and topics are used to share information with online viewers, a local business could receive inquiries from interested prospects. Our 7-Step Process for Content Marketing Success provides a proven method for generating targeted website traffic and high-quality Internet leads.
Considerations
Advertising your website to reach a sufficient amount of people might become a costly endeavor. Hiring an Internet marketing expert to generate website traffic and inbound leads will be priceless. Contact Mobile Copywriter for low-cost promotional methods to generate free Internet leads for local businesses.