Mobile Copywriter's 7-Step Process for Content Marketing Success
Mobile Copywriter uses a content marketing process that gets results for our clients. Put your website marketing plan on autopilot. We'll do the heavy lifting while you're handling other areas of your business, such as sales, planning and management. See the diagram below that illustrates how we help small business owners get found online with our 7-Step Process for content marketing.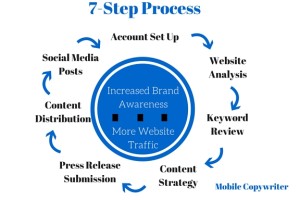 Success = Increased Brand Awareness and More Website Traffic 
Get found online with our web content writing and web content marketing strategies. Mobile Copywriter is among the fastest growing SEO copywriting companies in the United States. We increase website traffic on Google, Yahoo, Bing and other search engines. Dominate your local market with our professional article writing services and content distribution methods.
Increase your brand awareness and your visibility online Contact Us, today!