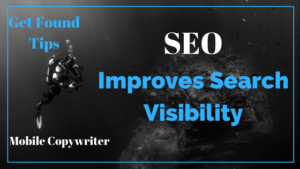 Copywriters are underutilized as online marketing experts for small business owners. Whether a company needs a catchy jingle, content for printed brochures or search engine optimized Internet leads, a copywriter can create a connection between online shoppers and local business owners. Entrepreneurs hire Mobile Copywriter for SEO Internet leads and to make more money online.
Paid Advertising for Small Business Owners
Small business owners can generate a profit with search engine marketing ads and with paid advertising via social media. However, many business owners have lost a considerable amount of money on expensive advertising campaigns. Generally, a company will need to conduct ongoing research to determine which ads are making money for the business.
Quite often, an entrepreneur with unrealistic expectations may prematurely pull the plug on a marketing campaign. Ironically, without any new sales, it is understandable that a small business owner may decide to eliminate paid advertising costs that exceed $1,500 per month. It is important for entrepreneurs to establish a break-even point for marketing costs that may not improve the company's brand awareness.
SEO Internet Leads for Local Business Marketing
Local marketing can increase a company's opportunity to build relationships with targeted buyers. When local buyers purchase quality products and services, a company could receive an infinite amount of repeat business. Using SEO Internet leads for local business marketing purposes might be the best way to build a company via inbound sales.
Our local business marketing strategies provide excellent methods for building brand awareness and for creating search engine optimized content to attract Internet leads.
Get Found Online With Paid Advertisements and With Search Engine Optimized Content
The goal for an online marketer is to generate visibility that results in more website traffic, subscribers, Internet leads and sales conversions. Combining SEO content writing and paid advertisements is a great way for a local business to get found online.
Contact Mobile Copywriter now via the blue button below to generate SEO Internet leads for a small business.

Get Info