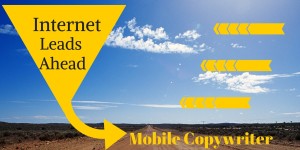 Lead generation activities must be ongoing for small businesses. Whether a company's sales goals are being met or improvements are needed, a small business must continue to generate fresh Internet leads. Mobile Copywriter is among the best local marketing businesses to hire for lead generation strategies.
Why Should Small Businesses Generate Internet Leads?
When assisted by knowledgeable professionals, small businesses can generate Internet leads fairly quickly. The costs for Internet leads are vastly cheaper than many other types of small business leads. Website content or search engine marketing strategies may be targeted toward a specific audience to obtain web-based leads. Generally, a consumer will initiate some form of contact before a business receives an Internet marketing lead. For instance, a consumer will click onto a website link, complete an online contact form, submit an inquiry via email or place a phone call to a local business.
A small business must have a system in place to generate Internet leads versus losing sales to nearby competitors.
Reliable Local Marketing Businesses
Many companies have expressed negative experiences with local Internet marketing businesses. However, there are many reliable Internet marketing companies that specialize in helping local businesses. Perform a Google search to find the best local marketing businesses within a specific area. Ensure that prospective service providers are using a local marketing system to attract Internet leads for small businesses.
We use a proven method for lead generation: 7-Step Process for Content Marketing Success
Hire a Local Marketing Business to Generate Internet Leads
Typically, a small business owner has too many daily tasks to consistently allocate time toward web page updates, blog posts and research for local Internet marketing opportunities. Online lead generation requires a great deal of time and patience. Contact Mobile Copywriter to hire a local marketing business to generate low-cost Internet leads.

Get Info