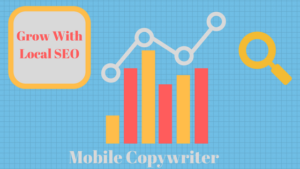 Better search engine rankings are possible with help from a local marketing company. Small and medium-sized businesses can receive support from an experienced SEO service that is based in the United States. Local marketing services from Mobile Copywriter can increase website traffic, leads and sales for nearly any type of business.
Benefits of Local Marketing
Regional companies and community-based businesses can use local marketing strategies to attract buyers who live, work or shop in the area. However, buyers are likely to patronize the companies with significant visibility. Local Internet marketing help is extremely affordable for small businesses. Several benefits of local marketing are shown below.
·Easy to implement
·Low-cost promotions
·Measurable results
·Higher sales conversions
·Repeat business
Our local marketing initiatives are used to increase brand awareness and website traffic for small businesses.
SEO Content Writing and Marketing
Consumers and B2B clients frequently support businesses with a strong Internet presence. Using search engine optimized content is a great way to build the level of recognition that is required to get found online. SEO content writing services can create blog posts, website articles and press releases to generate more traffic for a small business website.
More sales are possible when a company channels valuable information toward a targeted audience. Search engine optimized Internet marketing for local businesses works. We use a content writing and marketing success system that gets remarkable results for local businesses.
Local Marketing Company Gets Results With Call-to-Action Copywriting
Increasing a client's sales and visibility is a primary goal for marketing companies. However, some marketing firms never earn any money for paying clients. Many of the marketing companies that successfully help clients generate sales take a very long time to produce results.
Mobile Copywriter is a local Internet marketing company that gets faster results for small business owners. With call-to-action SEO copywriting, we are able to rapidly drive targeted Internet leads toward small business websites. Use the button below to request more information about our local marketing strategies and SEO services.
Get Info