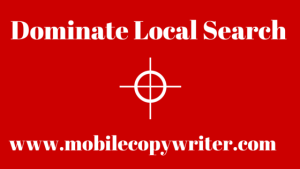 Local search results provide outstanding opportunities for marketing a small business. Whether you operate a local retail store or a mobile business, local search results may provide daily leads for your sales force. I think that you'll agree with me on this next point.
Display ads on the Internet and pay-per-click leads require a sufficient amount of funds to cover a content marketing budget. However, some small business owners with limited resources might decide to randomly initiate Internet marketing strategies throughout the year.
Here's the sad new. After several attempts toward a failed process, many small business owners get fed up with the idea of lead generation on the Internet.
Here is the good news.
You no longer need to worry about how you can devise the correct method or timing for a new Internet ad campaign. Our 7-Step Content Marketing System eliminates the guesswork to achieve brand awareness on the Internet for small business owners.
Use Content Writing to Get Found Online
Lack of visibility is a major reason that many business owners never quite achieve their Internet marketing goals. We provide world-class content writing strategies to help increase your company's brand awareness and website traffic, too.
Using social media marketing for local businesses and first page rankings on Google, we're able to build the website recognition for virtually any business.
Our content writers incorporate many of the best search engine optimized copywriting strategies for marketing a local business in 2016. If you are looking for a low-cost way to get found online, content writing is one of the best methods for getting ranked on Google, Yahoo, Bing and other search engines.
Avoid Cheap Content Writers to Improve Local Search Results
There's a reason that the best SEO copywriters in 2016 and content writing experts charge significantly more money than generalists who often promise high-quality article writing services for less than five cents per word. Some writers will crank out loads of content that search engines hate for a penny per word or less.
You should not rely on cheap content writers to improve your local search results. If you have had poor results with content writing mills or writers from other countries, you can hire a US-based professional content writer to get found online faster. Mobile Copywriter has a reliable team of content writing experts to help you dominate your local market for customers who are searching for your products or services online.
Apply Local Search Engine Optimization
How does local SEO work? Local SEO places a primary focus on targeted areas for business. For instance, you might plan a local SEO campaign for lead generation within your city, county, state or zip code.
Local search engine optimization can significantly improve your company's website traffic. While many companies are seeking global business opportunities, you can use the Internet to improve your local customer base. We can help you build your company's local SEO versus regular SEO. Mining for local website traffic and local Internet leads might substantially improve the annual profits for your business.
Get a Google Places Page
Among our top tips for dominating local search results, you may also want the best Google Places page in your local business market. Ensuring that information about your business is properly displayed on your Google Places page and other websites could help improve your company's ability to dominate local search results.
Considerations
Honestly, Internet marketing takes a lot of work. Making the commitment to implement the above strategies could improve your sales in your local market. If you need assistance or you're ready to work with the best copywriter to get found online faster, you may contact us today for more information.
Request more information:
Get Info