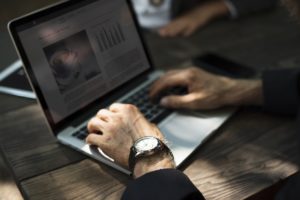 Article writing services provide helpful ways for a local company to increase website traffic. When products or services are promoted online, a local company can share search-engine friendly content that readers love to discover. Internet marketing professionals recommend writing articles to increase website traffic and to get found online faster.
Why Writing Articles Will Increase Website Traffic for a Small Business?
Professionally written web articles that are search engine optimized can secure premier rankings on Google. Content that gets a lot of visibility has a higher probability of generating website traffic versus content that does not rank well in the search engines.
Some companies could write more than five articles and blog posts each day without breaking into the top 10 pages of Google's search engine results. A competitor that employs an experienced digital marketing team may have the ability to create a single piece of content each month that ultimately ranks well in the search engines. So, where is the reassurance that writing articles for a content marketing strategy will ever work for a small business?
There is not a guarantee that a business of any size will have success with content creation or local marketing. However, business owners can hire a copywriter online to generate inbound marketing leads versus employing and entire team of creative professionals.
Outsourcing certain content creation tasks to an expert could enable a company to focus on sales and customer service. It is a prudent idea to hire SEO copywriters who are writing articles for mortgage companies, insurance firms, real estate agent, dentists, plumbers, HVAC contractors and other small businesses.
Working with SEO copywriters who can create content that is search-engine friendly is a great way to increase website traffic ahead of competitors who are trying to do-it-themselves.
Writing Articles to Get Found Online Can Increase Website Traffic
Contrary to popular belief, web content that fails to go viral could still make a meaningful impact with a targeted audience. Although, for desktop computer users and for mobile users to locate a company's content, it is extremely important to get found online for targeted keywords and keyword phrases. Anyone can start writing articles that sound good. However, writing articles to get found online is a completely different story.
Hiring a copywriting expert is the best way to increase a company's visibility online. In fact, small and medium-sized businesses that enlist the services of a professional copywriter will save time and money. While there is not a race toward the top of local search engine rankings, companies that get found online sooner than other competitors may increase website traffic, generate Internet leads and obtain online sales in a shorter time frame.
Why SEO Copywriters are Writing Articles Online for Small Business Owners
Article writing success takes time and patience to obtain profitable business results online. Typically, a small business owner will not have the time to allocate toward article writing for the long haul. When it comes to making the decision about what to write, when to write and where the writing will have the most rewards, many small business owners are not prepared to create a consistent wave of content every week.
SEO copywriters can write articles and content for web pages, blog posts, social media posts, press releases and for newsletters. Busy entrepreneurs can hire copywriters who are writing articles online that are designed to increase awareness, build trust and generate leads for local businesses.
Contact Mobile Copywriter today to get found online in local search engine results, such as Google, Yahoo and Bing. Use the blue button below to request content creation and marketing support.