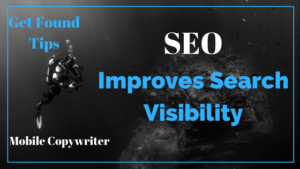 Search engine optimization is rarely understood. People with a vague impression of SEO may associate it with a dark artform that rarely produces any results.The following details will reveal some of the benefits that small business owners will receive from high-quality SEO copywriting services. Mobile Copywriter performs awesome SEO copywriting services for businesses across the United States.
What is SEO?
SEO stands for search engine optimization. Essentially, an SEO specialist uses research, keywords, high-quality website content, a variety of on-page elements and off-page strategies to enhance a website's visibility online. A search engine optimized website aims to provide a better user experience for people who are looking for certain products or services via the Internet. Our SEO services are designed to increase website traffic, generate free Internet leads and convert more online sales for local businesses.
What is SEO Copywriting?
Copywriters are hired to create persuasive materials that motivate readers to take decisive actions. SEO copywriting combines an authoritative voice that pre-sells readers on the benefits of a company's products or services, while the most applicable search engine optimization elements are added to form a powerful service. Without a doubt, we are able to achieve far better online rankings with the combination of SEO and copywriting versus using a single approach to reach the first page of local search engines.
What is SEO Copywriting Going to Provide for Small Businesses?
Small businesses will realize a variety of immediate and long-term benefits with SEO copywriting. As online visibility improves for a small business website, a company's brand awareness should increase, too. Ranking within the top search engine results will also increase a company's targeted website traffic. Among the most important benefits of SEO copywriting will be increased opportunities for a small business owner to convert more online sales.
Contact Mobile Copywriter for professional SEO copywriting services and to improve branding for a local business. Connect with us today to get found online faster.

Get Info