Ranking on the first page of Google and other search engines might seem impossible. However, an awesome search engine optimization strategy could improve a website's online presence. Mobile Copywriter uses SEO content to get premier mobile search engine rankings online.
Why are Mobile Search Engine Rankings Important?
To sell items via the Internet, a business must be able to get found online. When a web-based search is performed with a desktop computer, some of the results that appear may not be visible on a mobile device. Additionally, some companies have not upgraded from a desktop website to a responsive website design that is viewable on a variety of screen sizes.
Recent statistics have shown a higher percentage of mobile users versus desktop computer users. Therefore, every business owner needs a website that is visible to users who are searching online via desktop computers, tablets, laptops and smartphones. Google has issued a warning to business owners who are not using mobile-friendly websites. The search engine giant may issue ranking penalties to companies that are using websites that solely appear in desktop results.
A company that ignores mobile search engine rankings is similar to a business that decides to only sell left shoes. Competitive entrepreneurs are typically motivated to remain technically relevant in areas where potential business exists. We are here to help business owners get found online lightning fast.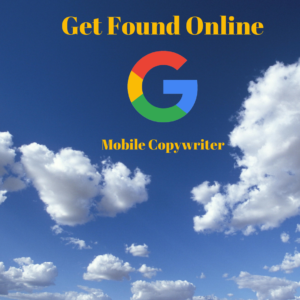 Search Engine Optimization for Faster Search Engine Rankings
Where a website ranks online will generally impact the amount of website traffic, Internet leads and online sales that a business receives. For instance, when a consumer performs a Google search for cheap auto insurance rates in California, agencies that are ranked on the first page of Google will receive the bulk of the inquiries.
Our SEO copywriting services are used to improve desktop and mobile search engine rankings for small business websites. Stronger organic search engine rankings could enable a company to generate free Internet leads.
Contact Mobile Copywriter to get fast mobile search engine rankings for a start up enterprise or for an existing business. Use the blue form below to request details now!