Content writing that incorporates SEO will typically get found online much faster. If a small business website has limited visibility in the local search engine results, an SEO company analysis could reveal opportunities for improvement. Mobile Copywriter provides stellar SEO content writing services that commands top search engine rankings.
Why is Local SEO Content Writing Helpful for Small Businesses?
While online videos and audio formats are popular ways to share a variety of messages, content writing provides the best way to truly engage with a targeted audience. Many consumers love to read, which is great. Coincidentally, search engines read content that appears on websites and blogs, too.
At the moment, Google, Yahoo and Bing use written content to rank websites within their respective search engine results. Consumers and businesses use written content to search for desired products and services online. Therefore, high-quality search engine optimized content writing can generate attention from online readers and from top search engines, too.
Hiring a professional content writing service for search engine optimization will generally give a local business a competitive advantage. SEO content writers use keyword tools and a research-based approach to craft web page content, blog posts, press releases, newsletters, website articles and eBooks. Our SEO services enable local businesses to dominate nearby competitors.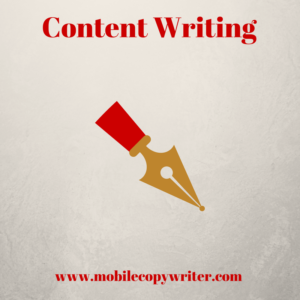 Local SEO Content Writing Strategies to Get Found Online in Top Search Engines
SEO companies will use a variety of tactics to improve a client's visibility and website traffic. According to Google, the best method to get found online is to produce high-quality website content. It's the primary reason that Google, Yahoo and Bing use website crawlers to find the best content to display on specific search engine results pages (SERPs).
Taking shortcuts to get found online will ultimately result in search engine penalties. Many companies that rely upon aggressive backlinking strategies and spammy promotional activities are destined for trouble. Professional content writing provides an authoritative approach to share valuable information with web-based users.
Contact Mobile Copywriter for local SEO content writing services or for more information about the best ways to get a small business website found online. Inquire today!

Get Info