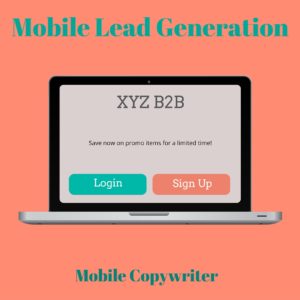 Web page content enables small businesses to interact with website visitors 24 hours per day. With a robust online platform, a small business can generate an unlimited number of local Internet leads. Entrepreneurs and Internet marketers can order a lead generation website online via Mobile Copywriter.
Use a Content Marketing Strategy
Forming a creative content marketing strategy could enable an entrepreneur to obtain qualified Internet leads. Local business owners can use web page content, blog posts, press releases, website articles and social media networks to engage with prospective customers. Using a content marketing strategy will provide a process for lead generation.
See our strategy: 7-Step Process for Content Marketing Success
Get a Lead Generation Website Online
Having a website that is designed to generate targeted Internet leads can enable local businesses to compete against companies that spend thousands of dollars per month on display advertisements and pay-per-click leads. Establishing a lead generation website online will give a small business the opportunity to attract more website traffic. Many websites serve as informational brochures versus operating as a part of a lead generation funnel.
We offer search engine optimized lead generation websites for small and mid-sized businesses. A small business can increase its website traffic and its lead generation methods with help from a professional SEO service.
Hire a SEO Service to Create Content for a Lead Generation Website Online
A great content marketing strategy will be of minimal value on a generic website. Additionally, a vibrant website that has the greatest bells and whistles will not be found on the first page of Google, Yahoo or Bing with average content.
Content is king. However, decent content quality can make its way within the top ten pages of the Google rankings. Excellent content may be found on page six of Google. But, to get discovered in the upper echelons of the search engine rankings, a small business will need to display superb levels of website content and certain elements of SEO.
Contact Mobile Copywriter to get a lead generation website online that integrates SEO, content marketing and call-to-action copywriting services.

Get Info