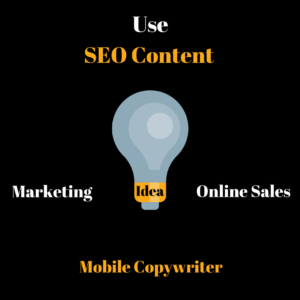 Increasing website traffic for a local business might lead to more online sales. Using the best digital marketing strategies can establish a foundation for customer engagement. Small business owners can hire Mobile Copywriter online for search engine optimization services that are designed to get more website traffic and Internet leads.
Why Hire a Copywriter?
Copywriters are hired to create persuasive materials that urges readers to take action. Rather that using pushy sales techniques or shameless promotional methods, a professional copywriter uses a collection of words and phrases to subtly encourage a reader to try a product or a service that solves a specific problem.
Companies that hire copywriters should expect to obtain more value than the actual cost of services. The decision to hire a copywriter might be extremely rewarding for a small business that is seeking to expand without a large sales force. Instead of starting an intensive mailing campaign, buying telemarketing leads, performing cold calls or paying for online advertising, a copywriter may be hired online to complete a variety of promotional tasks.
Working with a copywriter to promote certain products, services or online marketing for a small business website will enable an entrepreneur to concentrate on sales and other managerial duties. Hiring a copywriter is an affordable way to outsource certain services that could lead to a stellar return on investment for a growth-oriented firm.
Hire SEO Copywriter Online for Local Lead Generation
Waiting for website traffic to materialize is not a viable lead generation strategy. Now is the best time to hire an SEO copywriter online. New websites from hungry entrepreneurs are published everyday and local competitors are generally trying to find ways to get more website traffic and Internet leads.
Stay ahead of nearby competitors and start up companies with SEO copywriting that aims for a larger share of local sales. Ready to hire SEO copywriter? Use the blue button below to Contact Mobile Copywriter online.

Get Info