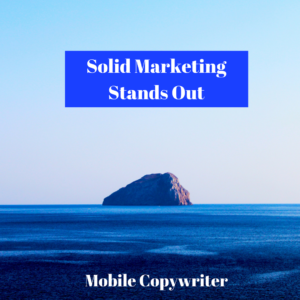 Professional service providers can share valuable information with local clients. Establishing a recognizable slogan, trademark, logo or a jingle could enable prospective clients to take notice of a financial firm. Mobile Copywriter helps financial companies with local branding initiatives.
Why Does Local Branding Work for Financial Companies?
The most popular financial companies spend a lot of time and money toward brand awareness. Large financial companies use broad forms of promotions to reach massive audiences. Small and mid-sized businesses can connect with consumers who need a variety of financial services.
Local branding can generate sales from hundreds of potential buyers. Establishing trust with consumers could enable insurance companies, mortgage lenders, accountants, attorneys, finance companies, tax preparers, real estate agents, merchant processing companies and travel agencies to obtain repeat sales orders.
Local branding strategies may be directed toward targeted consumers. Instead of spending advertising dollars to reach customers who are outside of a company's service area, local content marketing ideas may be used to gain customer recognition.
Hiring Copywriters for Local Branding Ideas
Copywriters are talented wordsmiths who create content that motivates readers to take actions. If a company has flat sales, no inbound website traffic or very few phone calls, copywriters can write engaging web page content, press releases, blog content, hiqh-quality articles and newsletters.
Local branding ideas for financial companies can increase web-based recognition, website traffic and targeted Internet leads. Copywriters can also create search engine optimized content for mobile devices. Competitive entrepreneurs are driven to build brand awareness via mobile, desktop and social media platforms.
Contact us today about hiring copywriters for financial companies. Professional support can enable local firms to increase website traffic, Internet leads and online sales. Based in York, PA, Mobile Copywriter provides Internet marketing services for small business owners who want to dominate local search engine results. Use the blue button below to get info today.