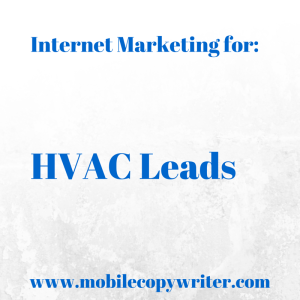 Air conditioning contractors are in high demand during warm weather periods. If a busy schedule limits your time to write blogs, press releases, newsletters, website articles or other types of content writing for HVAC leads, you may obtain help from a top content marketing and article writing service. Using a specialized format for generating HVAC leads on the Internet, Mobile Copywriter helps small business owners get found online faster.
Build Your Supply of HVAC Leads Now
Procrastination is a primary reason for small business failures. Most business owners expect their websites to generate leads on a daily basis. However, an equal emphasis is not placed on fresh website content to attract a loyal fan base.
For instance, a consumer could improve the operational efficiency of their air-handling unit by frequently changing the filter or by subscribing for a seasonal maintenance plan.
While some consumers might think that year-round maintenance is expensive, HVAC contractors are well aware of the benefits of preventive maintenance that saves consumers money in the long run.
Similarly, now is the time to invest in your business. We are content writing experts who use the power of Internet marketing strategies to generate a constant leads supply for HVAC contractors.
Service-oriented business owners have had negative experiences with Internet marketing. Trial and error is required in many cases to find the sweet spot for a reliable promotional method. Direct mail does not work for many HVAC contractors. Cold calling is virtually useless for HVAC companies, as well.
Google makes over 95 percent of its revenue from web-based advertising. Your business can make more money with Internet leads using the right support system.
Increasing Profits for HVAC Companies With Targeted Internet Leads
You'll need a lot of website content to attract local HVAC leads from the Internet. However, traditional marketing practices encourage small business owners to blast their messages to the masses.
Don't listen to anyone who uses boilerplate marketing ideas. You need a robust marketing method that drives targeted HVAC leads to your website. While every residence and business will eventually need air conditioning or heating repairs, you're aware that everyone is not interested at the current moment.
We are the best copywriters for Internet leads because we use professional content writing to educate consumers who are looking for specific services right now. Your business will enjoy higher profit margins by helping consumers who are searching the Internet for HVAC contractors. When your company appears on the first page of Google for air conditioning repairs or emergency HVAC services, you will receive a larger share of local Internet leads for heating and air conditioning companies.
As Internet marketing York, PA, content writing experts, Mobile Copywriter offers affordable SEO copywriting services for small business owners. Contact us for help growing your HVAC company with low-cost HVAC Internet leads.
Request Information About HVAC Internet Leads: Contact Us