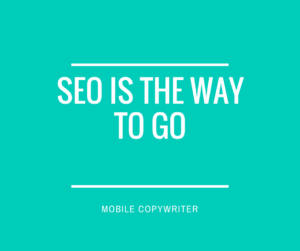 Get found online by people who are searching for local products and service providers. An unlimited number of opportunities may be experienced with a stronger connection among local buyers. Mobile Copywriter is an experienced search engine optimizer for hire that helps small businesses get found online.
Why Hire a Search Engine Optimizer With Website Ranking Experience?
Website ranking is vital to getting a consistent amount of page views. An experienced search engine optimizer may be hired to tweak or to create a variety of on-page metrics. When blended with copywriting, SEO is a great way for a local company to get found online. Our content creation process blends the best elements of search engine optimization to broaden the online visibility for small business websites.
Website Content Strategies Used by a Search Engine Optimizer
Search engine optimizers must be proficient with website content strategies that ultimately lead to favorable online rankings. The best way to ensure top search engine rankings is to use high-quality website content. Inferior website content rarely ranks within the top 10 pages of Google.
Since 10 organic web page results are shown in a typical search engine query, the top 100 results are displayed between page 1 and page 10 of Google, Yahoo and Bing. Competitive industries will often have several million search results. Appearing on page 5 of Google might reflect the 50th ranked search engine result among 5 million possibilities. Statistically speaking, 50 out of 5 million sounds superb. However, 90 percent of search engine users never venture beyond page one of the results that are returned by a reputable search engine, such as Google, Yahoo or Bing.
Hire an Affordable Search Engine Optimizer for Small Businesses
Professional SEO services are often worth the investment for large corporations. Many local services businesses are unable to maintain the costs for a search engine optimizer. However, small businesses can obtain favorable search engine rankings and local search engine results for an affordable price. We use a proven method to help small businesses get found online via low-cost SEO copywriting.
Contact Mobile Copywriter today to hire a search engine optimizer with more than 10 years of Internet marketing experience.