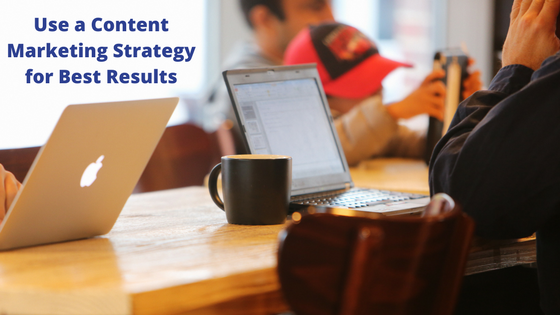 Increasing revenue is a fundamental task for growing a business of any size. It's fairly common knowledge that a business is either growing or it's fading. Generating high quality leads can improve your company's conversion ratio. A solid web content marketing strategy uses a combination of proven tasks that will attract qualified leads for your business.
Know Your Target Audience
Rather than using a shotgun approach to develop new business, you're likely to obtain more favorable results using a marketing strategy that reaches your target audience with a laser focus. Are your primary customers young or old? Does your business largely cater toward women or men? Are the bulk of your company's revenues from business-to-business sales? Are your services aimed toward customers who'll pay for quality or toward value-oriented shoppers? Having some demographic details and information about your typical client can enable you to develop a targeted marketing strategy.
We direct our marketing efforts toward service businesses, mortgage companies, credit card processing companies and real estate agents who want to improve their abilities to get found online.
Adjusting Your Approach
Marketing success is rarely based on random tactics that may be applied for all businesses. Quite often, you might find success with targeted initiatives that wildly exceed your expectations. However, you'll need to adjust your approach for marketing campaigns that largely result in learning experiences. Time is money. Therefore, repetitive actions that fail to deliver the desired results should be eliminated!
Goal Setting
Performance may be measured according to your specific goals. For instance, if your goal is to become ranked on the first page of Google, but your website is shown on page 6 for certain search results, you have a starting point and a destination. Perhaps, you can strive for a ranking on Google's second page within two months. A solid content marketing strategy could lead to a ranking on the first page of Google with an approach that incorporates the consistent delivery of quality content. Getting seen on the first page of Google is a primary goal for business owners who want to generate organic Internet leads. As a business owner or an executive, you might set a goal to reduce the amount of money that is allocated toward pay-per-click advertising. Organic Internet traffic can save thousands of dollars on Internet marketing and improve a company's visibility online. Ultimately, your decision to set a goal could lead to increased website traffic and revenues.
About Content Marketing
Is the buzz about content marketing overrated among SEO copywriters? The truth is that more and more business owners are embracing the importance of a solid web content marketing strategy. Unlike print advertisements that get thrown away like yesterday's news, your business can generate digital content that is evergreen. Blogs, articles, images, email and videos may be used to build a timeline for your business. Your website can showcase new developments, products and features that are important to your clients. If you are wondering about content marketing as a short-term fad or as a long-term strategy, you should know that content marketing is here to stay. Executives from service businesses to large-scale retailers are discovering the power that content marketing delivers.
Effective Content Marketing Strategies
To maximize your content marketing strategy, you'll need a generous amount of blogs, articles, and website content to build trust among your readers. It's important to know the types of content that will keep your audience engaged. For some websites, readers will return to find the joke of the day or posts that make them laugh. Other readers may frequently visit your website for new tips, inspirational messages, instructional content or for other types of information. An effective content marketing strategy should contain a mixture of the following:

· Original content that's to relative your product or services
· Evergreen materials
· Shareable data
Implementing Your Content Marketing Strategy
The beauty of content marketing is the ease of implementation. Web-based content may be uploaded instantaneously. Within minutes you can post a new blog, update your website content or share information among your social media followers. The challenge is to frequently provide authentic materials that readers can embrace, while using a professional format that ranks well within the search engines. Copywriters and Internet marketing professionals are excellent resources for companies that rely on creative insights from external thought leaders.
If your team misses the mark on its sales goals or lead development, you might discover some amazing results via outsourcing. Certain projects could have a huge staffing requirement for a small business. If you needed to hire a creative director, content writers, editors and Internet marketing professionals to implement a winning content marketing strategy, your company's payroll costs might skyrocket. In addition to saving money on benefits and training, you can outsource your company's content marketing needs to professional service providers who are reliable and experienced. Whether you begin a content marketing program with in-house employees, an advertising agency or the creative talents of outsourced professionals, your business could generate website traffic that results in more leads for your sales team. Deciding to implement a content marketing strategy could produce additional revenue for your business, too.
Internet Leads for Business
Is there any guarantee of success with Internet leads for business? Honestly, you should not trust anyone who promises that you'll get specific results from Internet leads. Many business owners have experienced mixed results with Internet leads. A solid content marketing strategy that builds interest for your products or services from your blog, newsletter, videos and other materials should result in more qualified traffic and leads for your business.
A lot of business owners are outsourcing their content needs to trusted professionals. The decision to hire a professional SEO copywriter enables a business owner to focus on sales and the day-to-day operations of running a business. Improving your content marketing strategy could produce a greater amount of prospective buyers for your business.
Considerations
You can take subtle steps today to change the course of your business. Two or three additional inquires per day could produce over 50 new leads each month for your business. By calculating your expected conversion ratio, you can determine whether a solid content marketing strategy that generates leads from the Internet is realistic for your business.
Take charge of your business today. Contact Mobile Copywriter for content marketing strategies that can empower your sales team to compete for more business.

Get Info