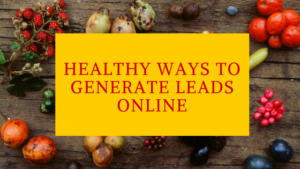 Professional copywriting services provide online marketing expertise for companies that demand a larger share of the market and higher sales revenues. Whether using a blog or a website, a business can increase its presence online with high-quality copy. Mobile Copywriter uses a variety of digital marketing strategies to generate free leads online.
Why Generate Free Leads Online?
The costs for Internet leads and many forms of paid advertising are too expensive for most businesses to maintain. After several rounds of being outbid by competing pay-per-click advertisers, many business owners will bow out of the arena. However, instead of waiting on the sidelines for other opportunities, an entrepreneur can hire a professional copywriter to generate free leads online. We create copy that has the potential to help our clients generate Internet leads for several years or greater.
Evergreen forms of copy that ranks well online can produce B2B leads and consumer Internet leads for local businesses. Instead of promoting costly marketing campaigns toward small business owners, we offer search engine optimized copywriting services to generate free leads online.
Hiring Professional Copywriting Services to Generate Free Leads Online
Working with professional copywriters will help a company save time and money. Imagine the differences between flying first class versus the reduced service level in the economy class. Paying more money for a better inflight experience will generate more money for an airline, while the additional costs for professional copywriting will help a business improve brand awareness, lead generation and its sales potential.
Avoid hiring an amateur for sales copy that is intended to generate a call-to-action from website visitors. We are a reliable company that is based in the US. While our office is located in York, PA, we offer services in Harrisburg, Philadelphia, Pittsburgh and throughout the United States. Use the blue button below to contact Mobile Copywriter about ways to generate free leads online.

Get Info