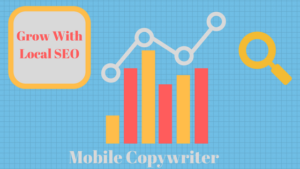 Targeted website traffic may be used to close more online sales. Connecting with nearby residents is a great way to increase brand awareness and to engage with local buyers. Mobile Copywriter uses the best search engine optimizations methods to attract local Internet leads.
Why Work With the Best SEO Company?
Reputable companies are known to get real results. Sure, everyone claims to have the world's best SEO company. However, we deliver solid website rankings on Google, increase website traffic and generate more local Internet leads than many of our competitors. Best of all, the methods that we use are search-engine friendly. Add in the value of high-quality content, sales pages, lead generation websites and weekly blog posts at an affordable price to get a complete view of our SEO copywriting services.
Many SEO companies subcontract the bulk of their content creation to cheap writing services. When the content fails to obtain top search engine rankings, a small business will realize a waste of time and money. Speaking of money, our costs for SEO services are less than the amount that many local SEO companies charge. Imagine being able to work with one of the best SEO companies in the US for affordable SEO prices.
Hire SEO Copywriting Company to Increase Website Traffic
Website traffic is one of the most important variables for online sales conversions. However, it helps to have quality website traffic. Hiring an SEO copywriting company is the best way to reach nearby consumers with content that compels interested buyers to follow a specific call-to-action.
Gaining a sufficient amount of search engine visibility takes time, patience and skill. Perform some due diligence before hiring an Internet marketing professional. Research Google and other search engines to find copywriters for services such as brand recognition, Internet lead generation and for increasing website traffic.
Consideration
Small business owners rely on us for affordable web page content, SEO services and for weekly blog content.
Contact Mobile Copywriter to hire the best SEO company in Pennsylvania.
We offer SEO and professional copywriting services in York, Harrisburg, Philadelphia, Pittsburgh, Maryland, Florida, New Jersey, New York, California, Texas and throughout North America.

Get Info