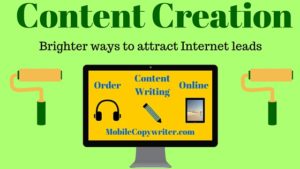 Entrepreneurs provide a variety of products and services in local communities. Many of the best companies are unable to grow revenues via repeat customers and word-of-mouth referrals. Mobile Copywriter offers affordable website content writing services and Internet marketing support for local business owners who want to increase brand awareness with prospective buyers.
Get Found Online Quickly With Professional Website Content Writing Services
Using a do-it-yourself approach, a small business owner might have some difficulty reaching the first page of Google, Yahoo and Bing. However, professional content writing services can give small business owners an edge over local competitors. We help local companies get found online quickly.
Website Content Writing Services for Financial Companies
Consumers are using search engines to find local businesses, such as accounting firms, mortgage lenders, insurance companies, banks, surety bonds, credit cards, personal loans, tax preparers and investment advice.
Hiring a copywriter who specializes in search engine optimization could lead to more website traffic and more Internet leads. Web copywriting for financial services may be used to engage website visitors to take action. Professional website content writing services for financial companies generally provide greater benefits than the costs.
Contractors Can Generate More Business With Website Content Writing Services
Content writing can generate Internet leads for local contractors. Many contractors are using content that does not result in savings via online advertising expenses. Replacing aged website content with updated web page information could lead to more online inquires and to more phone calls for local service work.
Contractors who appear on the first page of the search engines when consumers are looking for air conditioning repairs, heating services, plumbing emergencies, roofing estimates, kitchen remodeling or basement waterproofing companies will have opportunities to generate more Internet leads.
Local business owners are encouraged to contact Mobile Copywriter for affordable website content writing services to reach more buyers.

Get Info