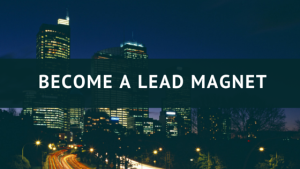 Internet marketing provides a fantastic opportunity to get the word out about a home-based business. Whether promoting a product or a service, entrepreneurs who work from home will need to continuously generate a fresh supply of sales leads to remain competitive. Many small business owners have dreams of unlimited success and the desire to obtain more sales online, but the commitment toward Internet marketing for home-based businesses often falls behind other priorities.
Create a Lead Generation System for Success
Most startup businesses in the US fail to meet their cash flow requirements to remain viable. Cash-strapped businesses might struggle for years to secure financing for a small company or to generate a sufficient amount of sales. Ultimately, unprofitable businesses will close, as a result of having more expenses than sales.
Lead generation aims to locate prospective buyers for a company's products or services. With a few additional sales per week, a home-based business owner might be able to stay afloat for a longer period of time. However, many intelligent business owners who are aware of the benefits of Internet marketing will wait for phone calls to pour in instead of investing a small amount of money to get found online.
The cost of doing nothing to secure more business is a huge entrepreneurial mistake. Decisive action is usually needed to realize radical changes. Business owners who sit and wait for the phone to ring might become frustrated with a dismal amount of sales. Of course, a business model that provides a consistent supply of incoming sales calls would be an exception to the aforementioned statement.
Since, competitive business owners and companies with enormous marketing budgets are using analytical data, online research and pay-per-click ads to sell more items via the Internet, home-based business owners can use proven lead generation strategies to reach prospective buyers quicker.
Working with a professional content writing company that also helps with marketing a home based business is an ideal way to formulate a lead generation system for success. For instance, an experienced SEO copywriter can create materials that compel readers to take action. With increased engagement, a home-based business owner may cultivate a funnel of prospective buyers and additional business connections.
Brand Awareness for Home-Based Businesses
Internet marketing that does not lead to immediate sales might have other benefits for home-based businesses. While searching online, a consumer might notice the name of a small business website. After repeatedly seeing search engine results for a home-based business, a consumer might decide to visit the company's website.
High-quality website content that ranks on the first page of Google gets noticed more often than web pages that appear beyond page one of Google. The same logic applies for Yahoo, Bing and other search engines. Websites that are shown as the top search engine results are more likely to gain recognition among consumers.
While walk-in traffic can provide a substantial amount of sales for retail businesses, home-based businesses typically lack the signage or the visibility to attract local customers. Assistance from some of the Best SEO copywriters could help enable a home-based business to increase its brand awareness online.
Generate Local Internet Leads for a Home-Based Business With SEO Copywriting
Experienced SEO copywriting companies are great at generating leads for home-based businesses. With a crafty approach to the creation of sales letters, web page content, press releases, newsletters and a variety of blog posts, an SEO writer can help a home-based business that has experienced sluggish online sales.
Local lead generation can provide faster sales transactions from nearby customers. Service-based businesses can typically respond quicker to local customers, and product-based businesses generally realize lower shipping costs for local customers.
Once consumers have established trust and awareness for a local brand or a company, that home-based business might be poised to generate local leads. Small business owners can sell the benefits that are associated with buying goods and services from local companies.
· Faster servicing time frames
· Quicker delivery methods
· Community support for small business owners
· Personalized services
· Referral incentives
· Discounts for repeat orders
SEO Copywriting to Increase Website Traffic for Home-Based Businesses
It's important to get the word out about a home-based business. Having a beautiful website and perfect blog posts are not enough to increase website traffic for home-based businesses. Realizing that 10 million search results may be available for a certain keyword phrase, it's a fairly safe guess to think that several thousand of the results have responsive websites that are optimized with many eloquent sprinkles of content.
Therefore, a home-based business owner should expect many competitors to have a nice looking website, too. Contrary to popular belief, design and appearance are not among the most important elements for search engine recognition. However, many small business owners spend a disproportionate amount of their annual budgets on web design.
Content is king for search engines and for readers. Some websites that costs upwards of $2,500 might have great aesthetic features, but lack a sufficient amount of content to rank within the top six pages of the Google search results. Interestingly, a fair amount of basic websites have first page Google rankings. High-quality website content that is presented in an authoritative manner has a much better chance for increasing brand awareness and for increasing website traffic.
A first page Google ranking could require a home-based business website to reach the top 10 search results out of 10 million possibilities. For a small business owner, a lot of effort is required to get found online via competitive search terms. SEO copywriting is the solution for home-based businesses to get found online faster.
Hiring an SEO copywriter to increase website traffic is a prudent decision for entrepreneurs who are too busy to learn content writing strategies or to implement professional content writing standards that are needed to compete against the best SEO copywriters for motivated business owners.
Lead generation online begins when an entrepreneur makes a commitment to pursue surefire methods to increase website traffic. While some small business owners might have the time, money and the energy to master content writing and content marketing, many home-based businesses would be very wise to outsource the tasks.
For every six months that a small business owner spends on ineffective Internet marketing strategies, half of the online sales for that year could be lost. The decision to save several hundred dollars for professional content writing and content marketing could potentially cost a small business thousands of dollars in revenue.
Low-cost content writing services and professional SEO copywriting services could enable a home-based business to increase website traffic, get found online faster and to generate local leads.
Get Found Online Quicker With Content Marketing for Home-Based Businesses in 2015-2016 and Beyond
Blog posts and web pages that are finely crafted should resonate with website users who are able to locate the materials. However, if most of the search results for a home business are displayed on the sixth page of Google or beyond, prospective readers are unlikely to view the content. Research from Hubspot reflects that 75 percent of users will not go beyond the first page of search results.
Now more than ever, home-based business owners need to implement content marketing strategies to get found online quicker. Many of the best content writing strategies in 2015 will be among the best content writing strategies in 2016, as well. Mobile Copywriter provides professional content writing help and content marketing tips for small business owners who operate from home or from mobile locations.
Effective content marketing strategies are recommended for home-based business owners who want to broadcast various types of website content. Mobile Copywriter uses a 7-Step Process for Content Marketing Success to get favorable Google rankings. With professional assistance, home-based business owners can obtain brand awareness, additional website traffic and more Internet leads.
Large companies are using powerful content marketing strategies and social media resources to make more money online. Home-based businesses can tap into an unlimited supply of Internet leads with SEO copywriting and content marketing strategies to get found online faster in 2015 – 2016 and beyond.
Why use Internet Marketing for Lead Generation?
Simply stated, because it works. In 2015, digital marketing strategies are producing web-based sales for many small business owners. However, the typical results will vary among Internet marketers.
Traditional advertising methods required small business owners to spend money on print ads, such as flyers, postcards, brochures or billboards. Business owners were required to pay upfront costs for typesetting, printing and postage fees. Business owners relied on incoming phone calls from the traditional outbound marketing methods.
Telemarketing was another outbound marketing method that required upfront costs for calling lists and payroll expenses for hourly telemarketers. Telemarketing is still used today to procure sales leads for small business owners.
Inbound marketing for home-based business owners provides enormous benefits. Digitally created content, such as web pages, blogs, newsletters, press releases, email and social media may be used to get prospects to call a small business owner. With lower promotional costs and faster response times, inbound marketing is the premier way for home-based business owners to get found online faster.
Considerations
Marketing is necessary to get the word out about a home-based business. The Internet provides extremely fast opportunities to connect with prospective buyers. Low-cost content marketing strategies can generate Internet leads for home-based businesses.
Mobile Copywriter is an Internet marketing York, PA company that combines the power of SEO article writing services and content marketing strategies to generate leads for small business owners. Get found online faster with brand awareness and content writing for home-based businesses that engages users to buy products online or to call about a promotional offer.
Request Internet marketing help: Contact US