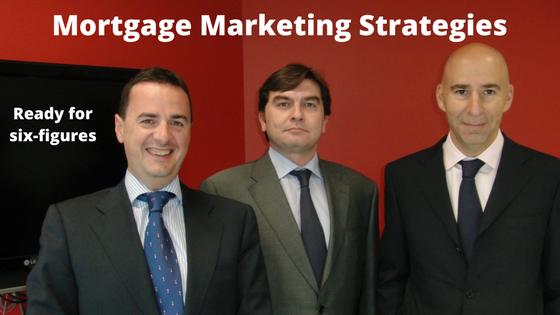 Loan originators have opportunities to earn more than six-figures per year. However, many originators are content with minimal earnings and job security. Mobile Copywriter is on a mission to share mortgage marketing strategies that help loan originators make over $100,000 per year.
Is it Possible for Average Loan Originators to Earn Over $100,000 Annually?
Absolutely. With dedication and persistence, a mortgage loan originator can consistently earn six figures. Rather than merely dreaming about larger commissions checks or about regulations that can hamper production, loan originators can focus on mortgage marketing strategies to close more business.
By the numbers, a loan originator would need to have average earnings of $25,000 per quarter or earnings of $8,334 month to reach $100K annually. While the earnings may seem out of reach, a motivate loan originator could hit these figures with ease.
Reaching $25,000 in earnings for one quarter would require closing $2,500,000 in business for commissioned loan officers (assuming a 1 percent rate of commission). For loan officers who earn a salary and a commission, reaching $25,000 in earnings for one quarter would require closing less than $3,200,000 in business (assuming a .50 percent rate of commission and a base salary of $3,000 per month).
Based on an average loan size of $250,000, a loan officer who only receives commission would need to close 10 loans per quarter. An ideal mix of closings might resemble 3 loans closed in month number one, followed by 4 closings in month number two and 3 loans closed in month number three.
In exchange for a base salary, a loan officer who receives a lower commission rate would need to close 13 loans per quarter (based on the above example). The ideal mix of closings might resemble 4 loans closed in the first month, followed by 4 loans closed in the second month and 5 loans closed in the third month.
With a sufficient amount of daily leads, a loan originator who can submit a new deal each day will grow their pipeline by 20 loans per month (excluding weekends). That amounts to 60 new loans per quarter. However, with only half as much production (30 loans originated per quarter), closing 10 to 13 loans per month is still a very manageable task.
Hiring a Copywriter for Mortgage Marketing Strategies to Get Free Leads
Copywriters can create content to generate free inbound leads. Using website content, blog posts and press releases, a copywriter can design compelling materials that motivate prospective borrowers to take action. We use a 7-Step Process for Content Marketing Success that increases website traffic and builds engagement with local home buyers.
Effective mortgage marketing strategies deliver insightful tips and valuable information that readers enjoy. With a social media marketing strategy and search engine optimized copywriting, a loan originator will easily be able to close more business. Hire a mortgage copywriter for targeted leads. Our system helps loan originators obtain enough leads to earn more than six-figures per year.
Contact Mobile Copywriter for lead generation strategies and get more information about increasing sales production.