Exclusive Internet leads for insurance companies and for mortgage lenders are valuable items for sales professionals. When an entrepreneur needs to select a lead generation company or an SEO copywriter to obtain sales leads, quality and costs are extremely important factors. Mobile Copywriter is the company to hire for SEO copywriting and for lead generation services.
Why is Lead Generation Important for Small Businesses?
Fresh Internet leads present opportunities for sales representatives to close more deals. A lead generation company may be able to transfer live Internet leads to a mortgage lender or to a life insurance agent. Since most sales reps are not able to close every interested prospect, a larger supply of Internet leads may be needed to hit a certain sales goal.
Firms that specialize in lead generation marketing may offer services that promote display advertising or pay-per-click ads. Some lead generation companies will locate prospects from a variety of resources. However, random sales leads are even harder to convert.
We use a content marketing system that attracts targeted Internet leads for insurance companies and for reverse mortgage lenders.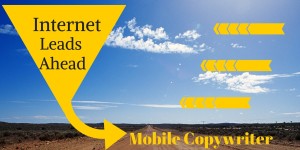 Hire an SEO Copywriting Expert for Local Lead Generation Services
Generally, a lead aggregator is tasked with finding a bunch of names that meet certain filter requirements to sell to interested buyers. Copywriters who specialize in search engine optimization are far more vested in the success of a small business. For instance, SEO copywriters typically perform keyword analysis, related research, storytelling and on-page search engine optimization.
As subsequent content is created for a client, an SEO copywriter may be able to interlink previously written items that are relative to new website content. SEO copywriting services are frequently hired to create web page content, blog posts, press releases, website articles, landing pages and lead generation websites.
Hiring the best SEO copywriting company for lead generation is essential to getting found online and for increasing website traffic. Contact Mobile Copywriter today for more information about our online marketing strategies.