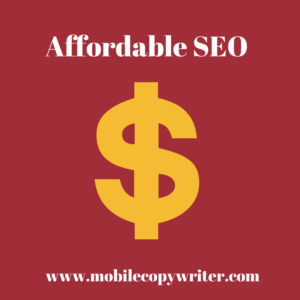 Small businesses that need budget-friendly marketing ideas can hire an search engine optimization service. Through targeted website traffic, a local business could obtain more Internet leads and online sales. Small business owners can contact Mobile Copywriter about getting an affordable SEO package.
Does SEO Work for Small Businesses?
Absolutely! Essentially, search engine optimization aims to improve a website's visibility. When a small business is competing against millions of companies to appear on the first page of the search engines, SEO is the differentiator. Some entrepreneurs are not convinced that search engine optimization works. However, it's very easy to view companies that appear on page 10 of Google versus businesses that are shown on the first page of Google.
SEO specialists can explain why a website has reached the top of the search engine rankings. Experienced SEO professionals can also explain what type of SEO help is needed to improve a website's ranking. Our SEO services can quickly help a small business improve its online ranking.
What is the Secret to SEO?
There is no secret or mystical powers that are used to improve website rankings for a small business. SEO requires a dedicated focus toward keyword research, competitor analysis, on-page metrics, backlinks, internal web page linking and authoritative website content. Small business owners typically waste several years while waiting for their website rankings to reach the top of the search engines. Most entrepreneurs are simply too busy to perform the tasks that are needed to maintain a formidable SEO strategy.
Hiring a Copywriter for Affordable SEO Packages
SEO services are often too expensive for small businesses. In fact, many companies resort to hiring cheap SEO services to increase website traffic. Hiring an SEO copywriter is a great idea for local companies. Copywriters can perform similar services that are much more affordable for small businesses. Since high-quality content is one of the most important aspects for obtaining a first page Google ranking, it's easy to understand why many businesses are hiring Copywriters for SEO services.
Contact Mobile Copywriter to discuss affordable SEO packages. Connect with us today
to get on the path toward more website traffic and online sales.