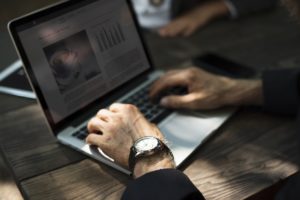 Internet advertising and digital marketing strategies are helping lending professionals earn more money online. Although, companies with extensive promotional budgets are crushing many local mortgage brokers and mid-sized lending firms.
Mobile Copywriter levels the playing field with the creation of professional website content to generate mortgage leads. Now, there is no reason to repeatedly lose business to larger competitors with deeper pockets.
Why Hire Content Writers for Lead Generation?
In the years ahead, mortgage companies that maintain frequent engagements with prospective borrowers will consistently close more business. So, why should local brokers and lenders hire professional content writers? Similar to the reasons that a first time home buyer should seek representation from a licensed real estate expert versus pursuing for-sale-by-owner properties, a lending expert should want to hire the best copywriters to create content for mortgage lead generation.
Sure, it's fairly second nature for lending professionals to interpret rate sheets and investor guidelines, however, it takes a different skill set to craft topics about financial content that will retain the attention of website visitors.
Having just a few precious seconds to engage with readers who are searching for a loan to buy or to refinance a home, mortgage lenders can outsource their article writing services to professional copywriters who can eloquently guide readers toward a call-to-action. Besides, hiring content writers or a professional copywriter will save lending specialists a ton of time.
Hire Copywriters to Generate Mortgage Leads With SEO Content
Search engine optimized website content increases the probability that a local mortgage company might get found online. Since many of the results that appear on Google's first page are already search engine optimized, it is wise to hire the best SEO copywriters to create website content and to craft informative blog posts.    
Who does not not want to rank at the top of Google's search engine results page? Companies are scrambling to maintain their search engine rankings that generate hundreds of free mortgage Internet leads. We specialize in creating professional mortgage content that increases visibility online for local brokers and lenders who are aiming to rank on the first page of Google, Yahoo and Bing.
Cost for SEO Copywriting Services
SEO content for mortgage companies is very cost effective. Our annual costs to create search engine optimized website copy is typically recouped with just one or two closed loans. When compared to the costs for pay-per-click leads, search engine marketing, online advertising and direct mail campaigns, hiring SEO copywriting experts is a much better value.
In addition to gaining top search engine rankings for small businesses, a stronger level of engagement is achieved when website visitors are sticking around to consume more content. The amount of time that the average reader spends on a website is a factor that Google uses toward its ranking factors. For instance, a website where visitors are typically hitting the back button or clicking away within eight seconds will not fare well in Google's search engine ranking. While a website that maintains a reader's attention for 30 seconds to several minutes or more will usually gain higher page ranks than inferior sites.
While no one outside of the Silicon Valley headquarters knows the precise reason that Google will improve or demote a website's ranking, it is reasonable to expect that the search engine giant will prominently display results that provide informative and enjoyable content for other users. Therefore, beyond the relatively low cost for SEO copywriting, it is very wise to hire the best SEO copywriters for mortgage professionals.           
Sales managers and company executives should know that a mortgage website that does not appear on Google's first page of local search results for valuable keywords and long-tail keyword phrases are losing business to nearby competitors. While there is usually enough business for most mortgage companies to find a way to survive, when a prospective borrower clicks onto a lender's website that shows up on the first page of Google, opportunities are lost for brokers and lenders with website rankings that appear beyond page one of the world's most popular search engine.
In most areas of United States, thousands of local searches are performed everyday for mortgage related terms. Companies that excel at mortgage marketing will be poised to connect with more website users who are searching for a home loan.    
Order Content Writing Services for Mortgage Lead Generation
A healthy supply of mortgage leads can result in more closed loans. Loan officers who are consistently closing deals will be happier about showing up for work. When a lending team is fired up about reaching certain monthly goals, a mortgage company might realize stronger profits.
Our system is designed to generate fresh mortgage internet leads via organic marketing strategies versus live transfer leads or other costly mortgage lead acquisition methods.
Companies that are driven to engage in mortgage marketing that achieves more brand awareness and online inquiries will be able to close more loans. Deciding to order content writing services for mortgage lead generation is the first step toward success.
Next, it is wise to set a monthly mortgage marketing budget that encompasses original content creation, search engine optimization and social media promotion.  
Mortgage companies with a robust marketing strategy can obtain a health amount of local Internet leads. Hiring cheap article writing services to create website content rarely produces top search engine rankings. When low-quality content writers fail to produce engaging content that results in more online leads, mortgage marketing managers will usually opt for pay-per-click ads that appear at the top of the search engines.
Hiring affordable SEO Copywriters to create persuasive content that compels readers to inquire about financing to buy or to refinance a home is a cost-effective way to grow a local mortgage company.
We use search-engine friendly methods to help mortgage websites and small businesses get found online. When a prospective client is performing a web-based search to find a mortgage loan, competitive brokers and lenders will want to receive the call.
Contact Mobile Copywriter to generate purchase money leads with search engine optimized content that sells.