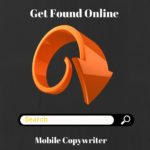 Buyers can shop from home to find a variety of products and professional services online. Whether your business sells electronic items or provides real estate home loans, informative content may be produced to attract more website traffic. Work with Mobile Copywriter to get a small business found online quicker.
Find Ways to Get Found Online Today
Shoppers frequently perform an online search prior to buying expensive items. Today, many consumers will conduct an Internet search for items, such as insurance, mortgages, SUVs, clothing, furniture, movies or books. If your website does not appear on the first page of the major search engines for items that you sell, local buyers may spend their money with other merchants who are in your area.
Use a Keyword Strategy to Get a Small Business Found Online Faster
Concise and eloquent copy is expected for websites that rank within the upper echelon of the search engines. However, your website must contain details that are far beyond flowery content to get found online. A formidable keyword strategy that incorporates relevant phrases could set your business head and shoulders above your local competitors.
As keyword strategists, we use research to determine the most appropriate terms and phrases to attract your ideal customers. Hiring a website copywriter is a great way to obtain content for local Internet marketing campaigns. With the right keyword strategy, your company can maximize its Internet marketing budget.
Take Action Now to Get Your Website Found Online
Avoid procrastinating or taking an excessive amount of time to think about online marketing. Outsourcing your promotional tasks to professional copywriting services could enable you to concentrate on selling and managerial tasks. Mobile Copywriter uses a marketing strategy that is designed to attract targeted Internet leads for small businesses. Use the "Get Info" button below to inquire about getting a small business found online with content marketing.
Get Info