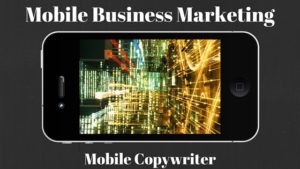 Mobile business owners provide convenient services for local customers. But, as a mobile entrepreneur, who do you turn to for Internet marketing help? Mobile Copywriter offers local Internet marketing services for small businesses.
Get Found Online With Search Engine Optimized Services
A mobile business that does not indulge in Internet marketing is equal to having a retail store without exterior signage or windows. Our search engine optimization services will help to catapult your website toward envious page rankings on Google, Yahoo and Bing. After all, your website visibility is the key to increasing website traffic and online sales.
Using an amazing SEO service to help guide your business toward higher profits is the preferred method for mobile business marketing. While you are helping dozens of clients each week, we can fulfill SEO article writing services and content marketing services to help prepare your website to get found online more frequently.
How Does SEO Internet Marketing Help Small Businesses?
Large corporations devote a huge percentage of their annual sales revenue toward brand awareness and Internet marketing strategies. Our low-cost SEO Internet marketing services help small business owners compete with larger companies. With affordable Internet marketing support, your business could receive daily Internet leads that are targeted for your niche.
Our SEO service and Internet marketing strategies help small business owners get the word out about local promotions. When local buyers call your company more frequently, your opportunity to sell more products and services will improve exponentially.
Copywriting Services for Mobile Business Marketing
Internet marketing help may be obtained from an SEO service or from professional copywriting companies. An effective mobile business marketing strategy will help web-based users identify with your brand, lead to more website traffic and generate targeted Internet leads.
We use copywriting services to help mobile businesses with their Internet marketing challenges. Contact Mobile Copywriter today about online marketing solutions for your business.