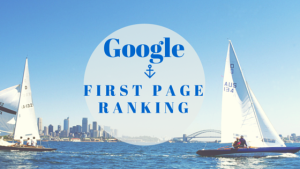 Ranking on Google will be challenging for small businesses in 2015. Large companies are predicted to hire content marketing firms and professional copywriters to form stronger customer relationships. Getting a small business website ranking on Google will be more difficult throughout 2015.
As you might imagine, small business owners are generally over-optimistic about the amount of website traffic they are likely to receive. Without a solid Internet marketing strategy, small business owners are relying on random referrals from the major search engines for additional website visitors.
Targeted website traffic directs prospects to your website who are looking for products and services that your business provides. Web design firms are often contacted to help small business owners with their website traffic.
Top web designers usually spend the bulk of their time concentrating on the infrastructure for new websites and for existing websites. Many web designers hire article writing services, SEO copywriters, Internet marketing experts and other web-based writers for quality web page content.
You can skip the middleman! The Internet enables you to find the best SEO copywriter for small business owners in 2015 who can get a first page website ranking on Google, Yahoo and Bing. Getting web page content from a copywriter for targeted website traffic is essential to rapidly growing your business throughout 2015.
Google offers free organic search results on its first page for high-quality content. Free leads from Google provides low-cost Internet marketing solutions for many small business owners.
What Type of Content is Good for a Small Business Website?
Authentic website content that accurately describes your company's products, services and values are more likely to generate a reservoir of interested prospect, as well as top search engine rankings. Whether your company provides goods or specialized services, you'll need quality web content to grow your small business website in 2015.
Several types of content are recommended for a small business website. Blogs, web page content, newsletters, press releases and article writing are ideal for generating targeted website traffic.
Content Marketing for Business in 2015
Now that you have a website that is filled with useful information, you'll need to share your materials with an army of supporters and followers. Content marketing experts and SEO copywriters can increase your website's engagement through a variety of online resources.
If you're like most small business owners in 2015, you'll be too busy to maintain regular content submissions to the most popular blogs, media resources, bookmarking websites and dozens of social media networks.
Outsourcing your small business content writing and content marketing tasks could lead to more productive use of your time. Hiring a professional article writing service for SEO copywriting support may lead to more sales, too.
Summary
You have the ability to change the direction of your business in 2015. Securing a first page Google ranking is among our top small business success tips for 2015. Let us help you get more business in 2015. Contact Mobile Copywriter today for details about our targeted Internet marketing strategies for small business owners.
Request more information:
info@mobilecopywriter.com