Small business owners can read get found tips online along with some of the best strategies for ranking on Google, Yahoo and Bing. Mobile Copywriter provides tips to help local companies improve their search engine visibility. Learn about a new tip each day or contact us to get search engine optimization support. Learn to grow with SEO!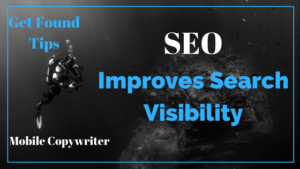 Learn more about improving visibility for a small business website. Mobile Copywriter uses a variety of the best SEO copywriting methods to help small businesses get found online. We specialize in local Internet marketing strategies that enable companies to dominate local competitors.
Read more details about how SEO improves search visibility.
Message us for support: Contact Us