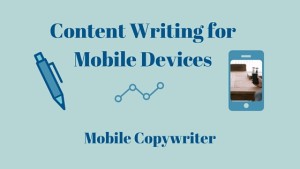 Copywriting for mobile devices delivers information in a concise format for a more enjoyable user experience. When a consumer is performing a Google search on a smartphone or a tablet computer, a company that provides fast access to authoritative content will have substantial opportunities for online sales success. Mobile Copywriter provides SEO services and the best content writing services to connect with consumers who are on the go.
Why SEO Copywriting to Get Found on Mobile Devices?
The amount of consumers who are using mobile devices is on the rise. Every business owner should have a responsive website that is easy to read on a variety of mobile devices. Search engine optimized copywriting for mobile devices aims to improve a company's visibility on Google, Yahoo and Bing.
Not too long ago, a consumer would visit a library to perform research for desired information. Consumers also used a local telephone directory or called for directory assistance to locate the phone number, address and other details about nearby businesses.
Today, a consumer can reach into her handbag to find details about local restaurants, movie theaters, real estate agents, insurance companies, emergency HVAC repairs, dentists, mortgages and other types of businesses.
Hiring an SEO Copywriter For Small Business Owners
Fortune 500 companies frequently hire copywriters and marketing experts via public relations firms. Small business owners can hire an SEO copywriting professional to compete against larger agencies. Outsourcing certain tasks, such as online marketing services, search engine optimization services and call-to-action copywriting services could enable a local company to get found on mobile devices.
Professional copywriters can create engaging content that gets the attention of popular search engines and mobile users for a fraction of the costs that PR agencies typically charge.
Contact Mobile Copywriter for Internet marketing support to compete against the best companies in the world. Use the button below to get info today.

Get Info