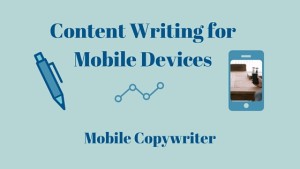 Increasing website traffic for a mobile business may be accomplished with digital marketing strategies. Whether a consumer is using a smartphone or a tablet, business owners can use a variety of tips and informative details to engage with users who frequently connect to the Internet with mobile devices. Since Google made the announcement about penalties for websites that were not accessible on a variety of platforms, smart entrepreneurs have explored mobile content writing strategies to get found online.
Having a beautiful website with a responsive design is useless, if prospective customers select other companies that rank at the top of the search engines. With help from Mobile Copywriter, small business websites can compete against larger competitors.
Mobile Content Writing for Small Business Owners
As experienced content writing professionals, Mobile Copywriter helps small business owners with mobile content writing solutions. Our services are designed to increase website traffic, build stronger reader engagement, strengthen a company's branding and to cultivate a consistent supply of daily Internet leads.
Small business owners must quickly engage with readers online. Within eight seconds of visiting a web page, a reader will find value that compel him to learn more or a search for other websites might occur. A concise delivery of information that a reader is seeking is needed to command longer than average page views.
Ultimately, mobile content writing should lead a reader to a desired action, such as a phone call, a web-placed order or to a newsletter subscription or to provide an email address. Small business owners who embrace a variety of digital strategies may have opportunities to increase website traffic, Internet leads and online sales.
Best Digital Strategies for Mobile Entrepreneurs
In 2016, mobile entrepreneurs have a ton of resources for business development. However, to compete with extremely aggressive small business owners, mobile entrepreneurs should use some of the best digital marketing strategies in 2016.
Social media, podcasts, videos and mobile content writing can enable an entrepreneur to rapidly promote a small business. Additionally, blogging, web page updates and press releases may be used to complement a variety of content marketing strategies for small business owners in 2016.
The best digital marketing strategies in 2016 will vary among small business owners. Whether an entrepreneur works with the best content writer in 2016 or the best website designer in 2016, individual results should be measured against a small business owner's best performing marketing strategies for 2016.
It is important to test several marketing strategies to determine which methods provide the most benefits. A small business owner who uses several online marketing ideas may be able to fill her toolbox with robust content marketing ideas and digital strategies in 2016.
A reliable assortment of tools might get the job done more efficiently. For instance, a carpenter who shows up for work without a hammer could be in for a very long day. Similarly, a different carpenter who went to work without a saw might be less productive than usual.
With help from Mobile Copywriter, small business owners will have access to digital marketing strategies that are used by some of the best content writer in 2016.
Hiring a Mobile Content Writer Online
Mobile entrepreneurs should know that time is money. Every day, small business owners are either making progress or spinning their wheels. Making the decision toward hiring a mobile content writer for search engine optimized materials is a wise investment.
As one of the best SEO copywriting companies in 2016, Mobile Copywriter is the company to hire for authoritative web page content that engages website users and commands search engine attention.
Use the "Awesome Content" button below to order content writing online today!