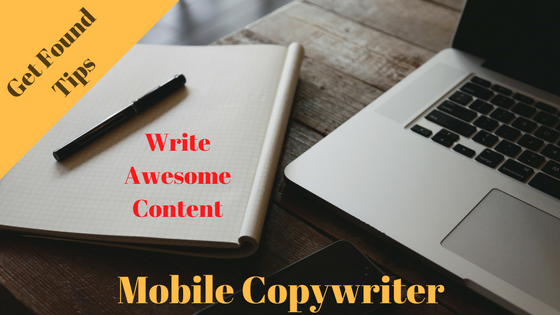 Small business copywriters provide a variety of value-added services. Whether a marketing director or a local business owner needs help attracting website traffic, copywriters may be hired to promote a new campaign. Mobile Copywriter provides content writing and keyword research to generate targeted website traffic and Internet leads for local businesses.
Why is Content Writing and Keyword Research Important for Local Companies?
The exclamation that content is king is merely an understatement. Millions of search engine results appear for the keyword phrase "mortgage loans in New Jersey." However, only 10 results will appear in the organic rankings of Google's first page. Knowing how to create content that obtains favorable search engine rankings is the reason that local companies are hiring copywriters to gain a competitive edge.
Hiring Copywriters for Search Engine Optimization Services
Search engine optimization services are hired to improve a website's visibility online. While SEO is not rocket science, the process requires a tedious approach toward the analyzation of competitor websites, keyword research, on-page metrics, backlinking and other specialized services.
SEO services often outsource a variety of website content writing assignments to experienced copywriters. Generally, a business will save money by hiring copywriters who perform SEO services, keyword research and website content writing services. We provide copywriting services that help small businesses with online marketing strategies.
Ordering Cheap Writing Services Versus Hiring Copywriters Online
With cheap writing services, a small business will generally get cheap website content. It is amazing that companies will spend thousands of dollars on a website or toward a commercial cleaning franchise, but place a $10 spending limit on web page content. Incidentally, companies that pay for professional writing services are getting higher quality. Search engines are ranking high-quality website content ahead of marginal and poor website content writing.
In addition to great content, hiring copywriters will enable a company to include call-to-action content that is sprinkled throughout engaging website articles.
Contact Mobile Copywriter to order content writing online for a local business.

Get Info