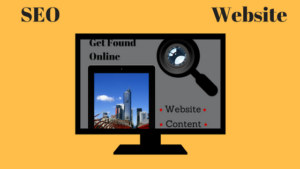 Get found online by consumers and B2B customers who want to support small businesses. Whether you sell products or your company offers local services, Internet marketing can expand your reach. Having a search engine optimized website can improve website traffic and online sales for your business.
Benefits of an SEO Website
Basic websites may feature some of the items that are needed to get found online. However, an SEO website incorporates many additional bells and whistles. Websites that are designed with an SEO influence will aim to attract the attention of targeted prospects and major search engines, such as Google, Yahoo and Bing.
Shown below are some of the metrics that are considered in an SEO website.
·Creative headlines
·Meta tags
·Word count
·Meta descriptions
·Subheadings
·Backlinks
·Images
·Alt tags
·Keywords
·Page speed
·Internal links
·External links
·High-quality content
Do I Need a Website if I Use Social Media Networks?
Yes. If you are an online marketer or a small business owner who wants to get found online faster than your competitors, you should have both. While many marketers will argue the merits of only having a blog or a website, there is no need to limit your potential. Having one without the other could cost you an infinite amount of contacts and sales.
You can seamlessly maintain a social media profile and a professional website. While we encourage our readers to like and share our Facebook page, we also receive website traffic from our social media followers on Twitter, Instagram and Facebook.
If you are a serious business owner, your Facebook page should not be your only platform to attract local Internet leads. However, your website should display social media icons for visitors to follow you and to share your content.
How do I Get a SEO Website to Get Found Online and To Obtain Local Internet Leads?
Mobile Copywriter provides affordable SEO websites and copywriting services. We also offer web page content, article writing, press releases and local Internet marketing help for small business owners.
Get information about an SEO website or SEO copywriting services for your business today.
Get Info