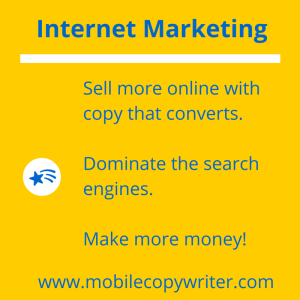 Small business owners can increase fourth quarter sales with content marketing and SEO copywriting. If your company generates a large portion of its sales during the year-end holiday season, you should implement a marketing strategy to increase website traffic today. With less than three weeks to go before the fourth quarter begins, you can contact Mobile Copywriter for SEO copywriting services that are designed to increase sales online for small businesses.
Copywriting From an SEO Service
We specialize in Internet marketing strategies that drive targeted buyers toward small business websites. However, we use a different approach than most SEO services. Many SEO services will outsource their content needs to SEO article writing services. Similarly, many blog writing services and content writing services will outsource their SEO services to an experienced professional.
Our clients receive high-quality content writing services, SEO copywriting, content marketing, SEO services and social media marketing from an internal team of experienced professionals. Working with the best copywriting resources and SEO service providers can save your company time and money.
Ideas to Increase Fourth Quarter Sales With Content Marketing
Perhaps you have a nice website, elegant blog posts and the best products and services within your local area. Your earnings potential will be limited if your content is largely invisible. Marketing your content is vital for a successful fourth quarter. Many of your competitors have already started an online marketing strategy to achieve stronger fourth quarter sales. Here are some of the methods that you can use to earn more money online within the next 90 days.
·Update web page content
·Upload several blog posts per week
·Understand the needs of your ideal customer
·Use a website copywriter for SEO services
All of the above methods begin with you. If you are ready to take action toward a more robust fourth quarter, contact Mobile Copywriter for content marketing strategies and for SEO copywriting services to get a larger share of revenue within your local market.
Use the blue button below for marketing help and to get online sales support.
Get Info